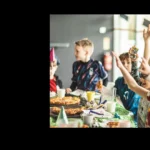 WIJ WETEN HOE we een voetbal feestje moeten bouwen!
Een dag die ze nooit vergeten!
Wij zijn er om te zorgen dat jouw kind zijn/haar verjaardag nooit meer vergeet. Onze gecertificeerde coaches zorgen voor een veilige, leuke dag vol actie en vreugde!
Het kan een hele opgave zijn om een feestje te bedenken en te organiseren. Laat ons het werk doen.
Een feest met voetbalthema is een schot in de roos en vooral bij Powerleague. Geniet van de smiles op de kids hun gezichten. We geven ze het 'helden van de dag' gevoel.
Kids PARTY PAKKET
2 uur feest en plezier! (minimum-prijs is gebaseerd op 10 kinderen)
Vanaf € 16 per kind
of € 160 per party
Is je kind tussen de 5 en 12 jaar en is hij of zij gek op voetbal? Powerleague is de ideale plek voor het feestje!
WAT IS INBEGREPEN:
120 minuten voetbalplezier op één van onze outdoor velden

Picknicktafel voor gebruik tijdens het feestje voor eigen gebrachte hapjes en drankjes* (Eten en drinken dien je dus zelf mee te nemen!)

Een ervaren voetbaltrainer, die begeleiding en enthousiast training geeft!

Voetbalspelletjes zoals: lat schieten, snel schieten en een penaltyrace!
De prijs voor het pakket is € 160,- voor de eerste tien kinderen. Voor elke extra deelnemer wordt € 16,- per kind in rekening gebracht. Je betaalt alleen voor de kinderen die aanwezig zijn (minimaal 10). Dus als er 16 kinderen zijn opgegeven en er komen er 12, betaal je alleen voor 12 kinderen.
"Verjaardagspartijtje gehouden voor mijn zoon van 6 met zijn vriendjes. In één woord geweldig!"
Marnix
Amsterdam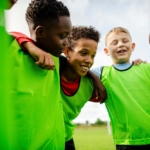 Kids Party - Amsterdam Olympiaplein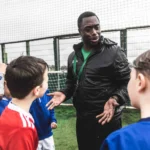 Junior League
Het maakt niet uit op welk niveau jouw kind zit. Het belangrijkste bij onze coachingsessies is plezier.
Stap meteen in bij een leuke sessies voor 6- tot 11 jarigen.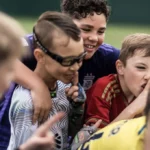 Kids Camps
Haal de stress uit de vakantie door een van onze voetbalkampen te boeken! Als het een beetje lastig is om je werk en vermaak voor je kinderen te combineren, kijk dan eens naar onze vakantiekampen voor 5-14 jarigen. Wij zorgen dat je kind een week vol plezier en activiteiten heeft.
Haal ze weg van hun videospelletjes en tablets en breng ze naar buiten!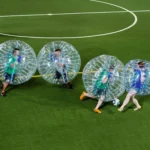 Bubbel voetbal
Heb je een vrijgezellenfeest of verjaardag op komst… of wil je gewoon lekker lachen? Doe mee aan dit hilarische voetbalfenomeen. Met je maten rennen, stuiteren in bubbels en je kunt scoren ook! Bekijk onze pakketten!
Alleen voor 16-plus.
FAQs
Klik hier voor een Powerleague locatie bij jou in de buurt.

Sportschoenen, geen noppen (gegoten noppen kunnen op sommige 3G-oppervlakken worden gedragen, neem contact op met je locatie).

Teams schrijven zich in voor een seizoen. In een aantal weken spelen alle teams twee keer tegen elkaar. Elke week één wedstrijd op jouw locatie. Wedstrijden duren 25-50 minuten. Wij bieden alle benodigdheden, van wedstrijdballen en hesjes tot FA-gekwalificeerde scheidsrechters. Het enige wat je hoeft te doen is elke week komen. Wedstrijden, uitslagen en ranglijsten staan allemaal op onze website.

Iemand van ons team heeft je aanvraag ontvangen en zal zo snel mogelijk contact met je opnemen via e-mail of telefoon.

Hou er rekening mee als een team aanmeldt bij Powerleague, het jouw verantwoordelijkheid is, als teamcaptain, om contactgegevens voor noodgevallen en medische informatie beschikbaar te hebben voor de spelers van je team.

Om Kids Party te boeken, kun je contact opnemen met de Powerleague Amsterdam of Rotterdam of boek direct via het online boekingssysteem. Selecteer Voetbal Party Pakket hier.

Al onze Kids Parties en kids Camps zijn super leuke evenementen, gericht op voetbalvaardigheden van alle niveaus. Alles draait om plezier maken, lekker bewegen en er een mooie dag van maken. Veiligheid nemen we serieus en al onze medewerkers zijn DBS-gecontroleerd en er is ook altijd een gekwalificeerde EHBO'er ter plaatse. Voor meer informatie over onze Voorwaarden, zie hier.

We streven er altijd naar om binnen 24 uur de uitslag online te hebben.

Korting op wedstrijdkosten – als we kunnen. Ook krijg je 3 punten. Als er je helemaal geen wedstrijd is, zijn er geen wedstrijdkosten verschuldigd. Overleg met de locatie manager.

Klik hier voor meer informatie.

Om te spelen in onze volwassen competitie moeten spelers om veiligheidsredenen 16+ zijn. Meer informatie over beveiliging is beschikbaar, hier (Engels).

Als je niet kunt vinden wat je zoekt, gebruik het formulier en iemand van ons team zal contact met je opnemen.