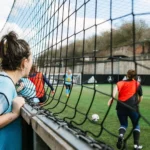 VROUWEN VOETBAL COMPETITIES VOOR
ALLE NIVEAUS
Vrouwenvoetbal is de snelst groeiende sport in het Verenigd Koninkrijk. En daarbinnen is 5-a-side de snelst groeiende vorm. Simpelweg omdat het zo toegankelijk is.
Mooi moment om ook mee te doen. Reserveer een veld of doe mee aan een van onze vrouwen- of gemengde voetbalcompetities.
GEEN DREMPElS OM TE SPELEN
Bij Powerleague zijn er geen drempels om mee te doen. Of je nu sinds kort de smaak te pakken hebt of al jaren je kunsten vertoont, wij willen op onze clubs en velden juist ook voetballende vrouwen zien, van alle leeftijden en niveaus.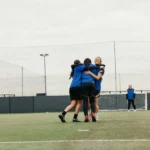 Zie je vrienden wat vaker
Met een druk leven is het vaak lastig om wat af te spreken. Met een wekelijks wedstrijdje heb je absoluut geen excuus!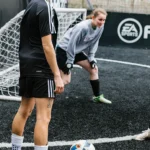 Voel je fitter
Een uurtje rondrennen op onze ultramoderne velden kan tussen de 600-700 calorieën verbranden en bovendien endorfine vrijmaken waardoor je je beter voelt over jezelf en je hele week fijn verloopt.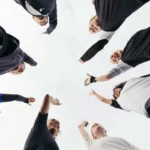 Speel in jouw buurt
Kies uit onze locaties en bekijk onze vrouwenvoetbalcompetities. Het is leuk, makkelijk en voor iedereen. We hebben locaties in meerdere steden.
VROUWEN
VOETBAL-COMPETITIES
Of je nu een voetbalkoningin bent, of voor het eerst de stoute schoenen aantrekt. Powerleague biedt vrouwenvoetbal-competities voor iedereen, ongeacht je leeftijd of niveau.
FAQs
Klik hier voor een Powerleague locatie bij jou in de buurt.

Sportschoenen, geen noppen (gegoten noppen kunnen op sommige 3G-oppervlakken worden gedragen, neem contact op met je locatie).

Teams schrijven zich in voor een seizoen. In een aantal weken spelen alle teams twee keer tegen elkaar. Elke week één wedstrijd op jouw locatie. Wedstrijden duren 25-50 minuten. Wij bieden alle benodigdheden, van wedstrijdballen en hesjes tot FA-gekwalificeerde scheidsrechters. Het enige wat je hoeft te doen is elke week komen. Wedstrijden, uitslagen en ranglijsten staan allemaal op onze website.

Iemand van ons team heeft je aanvraag ontvangen en zal zo snel mogelijk contact met je opnemen via e-mail of telefoon.

Hou er rekening mee als een team aanmeldt bij Powerleague, het jouw verantwoordelijkheid is, als teamcaptain, om contactgegevens voor noodgevallen en medische informatie beschikbaar te hebben voor de spelers van je team.

Om Kids Party te boeken, kun je contact opnemen met de Powerleague Amsterdam of Rotterdam of boek direct via het online boekingssysteem. Selecteer Voetbal Party Pakket hier.

Al onze Kids Parties en kids Camps zijn super leuke evenementen, gericht op voetbalvaardigheden van alle niveaus. Alles draait om plezier maken, lekker bewegen en er een mooie dag van maken. Veiligheid nemen we serieus en al onze medewerkers zijn DBS-gecontroleerd en er is ook altijd een gekwalificeerde EHBO'er ter plaatse. Voor meer informatie over onze Voorwaarden, zie hier.

We streven er altijd naar om binnen 24 uur de uitslag online te hebben.

Korting op wedstrijdkosten – als we kunnen. Ook krijg je 3 punten. Als er je helemaal geen wedstrijd is, zijn er geen wedstrijdkosten verschuldigd. Overleg met de locatie manager.

Klik hier voor meer informatie.

Om te spelen in onze volwassen competitie moeten spelers om veiligheidsredenen 16+ zijn. Meer informatie over beveiliging is beschikbaar, hier (Engels).

Als je niet kunt vinden wat je zoekt, gebruik het formulier en iemand van ons team zal contact met je opnemen.
Vind een veld bij jou in de buurt
Er wacht een fantastisch veld bij jou in de buurt op de volgende 9-8-thriller. Zoek een veld, kies een tijd, split de rekening met je vrienden en ga naar huis met een goed gevoel voor de rest van de week.
Geolocation has failed, have you allow location services for this site in your browser?