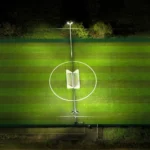 POWERLEAGUE
oNZE BELOFTE OM de GENDER PAY GAP te dichten
.
Gender Pay Gap Report 2021
Powerleague Fives Limited is a provider of commercial small sided football in the UK with over 41 Clubs across UK, Ireland and the Netherlands. We employ approximately 360 colleagues in the UK, 62% of which are male and 38% are female. The majority of our colleagues work in our clubs and 73% of those employed in club operations roles work less than 40 hours per week.
Our report on gender pay gap follows the methodology set out by the Government, comparing the hourly rates of pay between our male and female colleagues, regardless of their roles. The gender pay gap is an equality measure that shows the difference in average (mean and median) earnings between men and women.
This years' report will need to be viewed within the context of COVID-19 and taking into account that on the snapshot date, our clubs were closed due to the national lockdown and most of our employees were placed on furlough.
We are conscious that we have a gender pay gap, when measured for all employees, which is higher than the national average. This is largely the result of employing a larger proportion of men than women, which is reflected in both the industry and the sport. It is also due to a greater proportion of our male colleagues being in management and leadership roles. The gap is not the result of unequal pay for work of equal value. As we currently have more men managing our club and league operations than women, the overall average hourly pay rate is higher for men and leads to a greater gender pay gap. It remains both a
core commitment as well as a challenge for the business, to recruit and develop more women, particularly into management roles.
There has been a reduction in the number of women in the lower pay quartile from 52% in 2019 to 50% in 2021. Women's mean gender gap decreased from 27% to 25%.
A similar proportion of men and women received a bonus in 2021.
Christian Rose
Chief Executive Officer
Powerleague Fives Ltd