Junior League
Competitie training voor de jeugd van 6 t/m 11 jaar.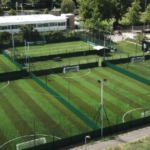 Junior League
Dé oplossing om enthousiaste kinderen alvast kennis te laten maken met de voetbalsport.
Jouw kind kan op ieder moment instromen bij onze Powerleague groep in Rotterdam. Wij verzorgen de trainingen en wedstrijden van a tot z. Na het traject bij ons zullen kinderen al op een hoger niveau zijn en makkelijker kunnen instromen bij Alexandria A'66. Mocht een kind niet kunnen instromen naar Alexandria A'66, dan is voor een beperkt aantal kinderen de mogelijkheid om door te stromen naar Junior League Next.
In april/mei vindt de instroom-procedure naar Alexandria A'66 plaats. Zodra duidelijk is of jouw kind wel/niet kan doorstromen, krijg je per email bericht. Tijdens de deelname aan de Junior League zijn de kinderen nog géén lid van Alexandria 66. Zonder verplichtingen kun je stoppen of overstappen naar een andere
vereniging waar wel plek is om direct te voetballen.
De Junior League bij Powerleague Rotterdam is gecreëerd in samenwerking met voetbalvereniging Alexandria A'66. Elk jaar heeft Alexandria '66 meer aanmeldingen dan de club kan plaatsen in de jeugdteams. Jouw kind zal snel op de wachtlijst komen bij aanmelding bij Alexandria A'66.
Powerleague Junior League is voor de leeftijd van 6 t/m 11 jaar.
Blijf op de hoogte. We gaan uitbreiden met een Youth League!
Voor de 12 t/m 15 jarigen bieden we trainingen om techniek, balvaardigheid en bewegingsvormen te verbeteren.
Op elk trainingsmoment en/of wedstrijddag is er een vast gezicht aanwezig als coach van de junior league. Deze 'hoofdcoach' wordt tijdens trainingen geassisteerd door stagiaires.
De trainingsmomenten en wedstrijddagen zijn altijd maar 1 uur lang. Hierin worden ze technische balvaardigheden geleerd, loopvormen geoefend en samenspel met teamgenoten. Een proeftraining is ook altijd mogelijk bij ons. Wij merken uit afgelopen trajecten dat de laagdrempeligheid van de Junior ervoor zorgt dat uw kind makkelijker aansluit bij het 'verenigingsvoetbal'.